I forgot to get on and post this on Saturday, so I wanted to update now!
Just a fun picture of
Bayleigh
in all her green!!
Ok
, isn't she getting big?!?! She is such a cutie and she loved all the four-leaf clover
tattoos
my mom bought her. She loved posing it up for me.
She loves celebrating St. Patty's Day!! The leprechauns did not make it to our house, much to the chagrin of
Bayleigh
. Maybe next year. *wink*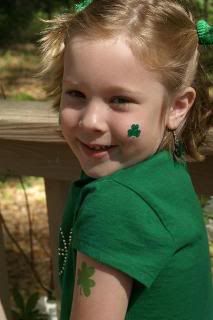 We enjoyed yummy corned beef and cabbage!!
Bayleigh
cleaned her plate. I love it when she tries something new and enjoys every bit of it. :) She ate like she hadn't eaten in weeks.
LOL
I have raised her well.