Okay, gotta post some more pictures of my baby boy. :) And yes, he is in a little basket. He is laying on a pillow that I stuffed down in there. I couldn't resist. I mean, I won't be able to do this very long. Have to get him used to my torture now. haha
I decided to take some of him in just his diaper. To remember how tiny his little hands, feet, legs, and all his part are. He was asleep until I laid him down in the basket and then he was bright-eyed and not too happy with me clicking away in his face.
Here he is.... Layne at 2.5 weeks old.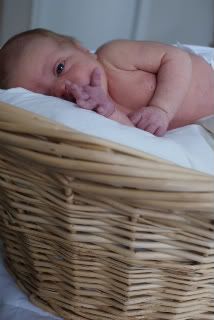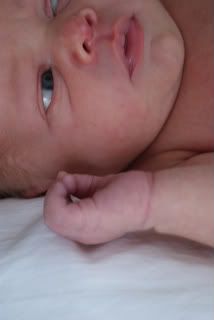 He was fairly cooperative. :) And look at those tiny hands and feet!!! This is why I scrapbook - to remember these days.
Layne had a fussy day today. He loves to go for walks though. And our daily walk to get Bayleigh from school was the highlight of his day. Hopefully, he will sleep well tonight. He was up until almost 1 am last night.
Alright, off to change a poopy diaper.